Thursday, 10 March 2011 01:20
On a thread at True Blue Freedom, a liberal member of TBF linked to a blog post that made the too-hard-to-believe (for rational people, at least) claim that "More Private Sector Jobs Created In 2010 Than During Entire Bush Years".

So I went digging, specifically from that blog's own source, the Bureau of Labor Statistics. And what did I find?
This: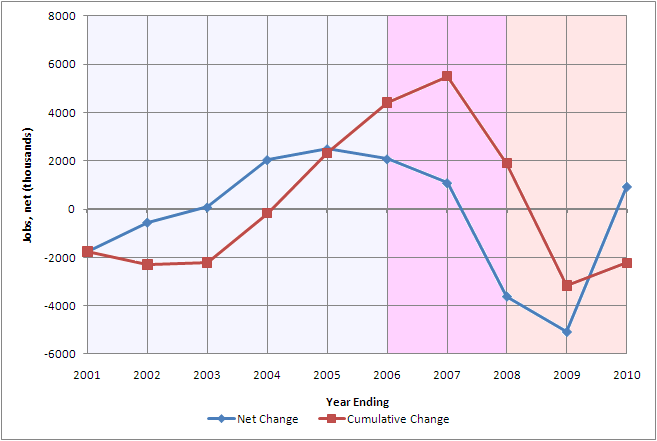 The X axis shows the ENDING year (so the first data point shows the net jobs creation, and cumulative job creation for Jan-Dec 2001. The second data point from Jan-Dec of 2002 and so on).

The blue shaded backgrounds indicate the years President Bush was in office, with a GOP majority in the House (and, half the time, in the Senate as well).

The darker pink shows a Bush White House and Pelosi/Reid (Democrat) Congress.

The light pink shows an Obama White House and Pelosi/Reid (All Democrat) Congress.

What do we see?

- The Bush Administration with a GOP House and half-time GOP Senate started with the Clinton recession, and ended up building a net 4.2 million jobs over those 6 years.

- When the Democrats took over Congress, the jobs situation LOST 2.3 million net jobs

- President Bush left office with a net 1.9 million jobs created over his 8 years.

- President Obama has watched the number of net jobs drop from 1.9 million positive to 2.1 million negative. A loss of 4 million jobs on his watch.

Now, the article is barely factually correct; it states that 2010 saw more private sector jobs created than 8 years of Bush Administration. But is that a fair or balanced assessment? I would argue not; it's highly misleading and obviously so for political reasons only. Why do I state this? It's quite simple:

1. You are comparing 8 years of the Bush Administration with just ONE year of the Obama Administration. When you compare both years of the Obama Administration, you find a decidedly LESS rosy picture (4 million lost for Obama versus 2 million gained for President Bush).

2. You are discounting the impact of the Pelosi/Reid Congress (of which President Obama was a member, and thus also complicit in its effects). Note when the drop off starts - the blue line (net change year over year) takes a decided downturn when Pelosi and Reid take control. Coincidence? Given that was when the deficit spending (and budgets originate in the House) skyrocketed.

3. It discounts the 2010 effects. 2010 saw losses for 6 of the first 9 months; when the Republican sweep of Congress became inevitable (in October, 2010) we see employment taking off. And continuing to take off. Most of the gains for Obama came with a GOP-led or GOP-incumbent Congress.

Now, the original author and poster tried to insinuate that the Obama Administration and the Democrats in Congress were better for jobs than President George W. Bush and the GOP led House (and half-time GOP led Senate). Yet when we examine the data, we find that such insinuations are simply not supportable. They don't hold up under an examination of THEIR provided data.

The conclusions are unequivocal:

- President Bush, in his first 2 years, saw fewer losses of jobs than President Obama
- President Bush, and the GOP led House, saw a net growth of 6 million jobs
- Speaker Pelosi and Senate Majority Reid oversaw a loss of 2 million jobs
- President Obama and the Pelosi/Reid led Congress presided over a loss of 4 million jobs

How that translates into "Bush=bad for jobs, Obama=good for jobs" I'm not sure, but then again, liberal logic still is a complete mystery to me!
Last Updated on Thursday, 10 March 2011 01:30